FinWise Bank, a subsidiary of FinWise Bancorp, has been named "Top Performing Community Bank" by Independent Banker Magazine, a key authority in the banking industry, for the second year in a row in the category of banks with assets of $300 million to $1 billion. The magazine compiles this annual list to recognize community banks that have consistently delivered high performance by focusing on criteria such as profitability metrics and return on assets.
"We are thrilled to have received this recognition for the second consecutive year," said Jim Noone, President of FinWise Bank. "This award is a clear testament to our unwavering commitment to serving our customers and communities around the country, and we've proven that our guiding values of personalized service, advanced technology, and financial expertise are among the best in the business."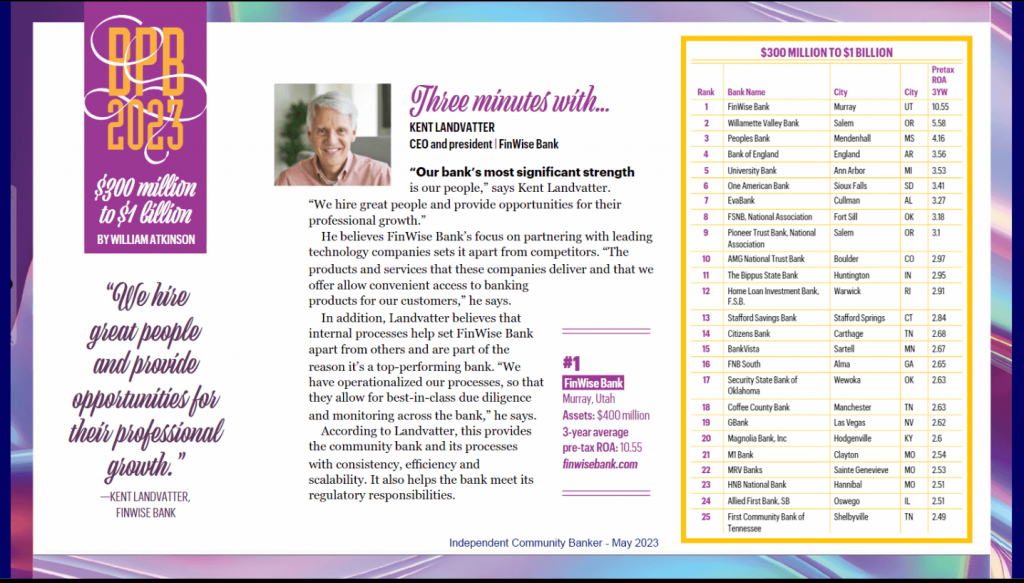 Independent Banker magazine is a prominent publication dedicated to serving the community banking industry in the United States. As a leading source of information and insights, the magazine caters specifically to professionals working in community banks, providing them with valuable resources, analysis, and trends to navigate the evolving financial landscape. A complete list of the nation's top publicly traded community banks can be accessed on Independent Banker's website.